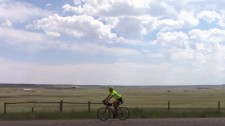 Fort Worth, TX, July 27, 2017 (Newswire.com) - So far, Tracy has conquered four states and 1,600 miles as she rides her bicycle from the Golden Gate Bridge to the Brooklyn Bridge. Along the way, she is spreading hope and inspiration to thousands of people.
Tracy's bicycle ride is focused on bringing hope and awareness to the over 29 million people affected by diabetes. She left the Golden Gate Bridge in San Francisco on June 13, 2017, and is expected to hit New York City in early September. At age 17, Tracy learned how to give herself shots after being diagnosed with Juvenile Diabetes (Type 1). While in the hospital, Tracy was told by all the medical experts she would die within 20 years, suffer from horrible complications, and that she would never be able to have children. Tracy has two children, is a grandmother, and has no complications.
One of the highlights of this journey is when Tracy spoke to over 100 children and counselors at an American Diabetes Association camp. Tracy continues to receive messages from parents who share how much hope she provided them and inspired their children.
Not only is Tracy "celebrating" her 40th anniversary of being diagnosed with diabetes by riding her bicycle approximately 3,500 miles, she is also raising funds to help children with Type 1 diabetes who desperately need the most up-to-date medical technology to save their lives. She has observed other major milestones in her life with diabetes by participating in the "Hotter than Hell" 100-mile bike ride and a triathlon, even though she is afraid of water. Tracy's mission is to help people understand that diabetes does not have to rule their life and no matter what health issues someone might be living with, don't give up hope. Tracy is spreading awareness of diabetes to everyone she comes in contact with, and to help stop this epidemic rise of diabetes in our country.
Tracy Herbert is a best-selling author, has been featured numerous times on TV, and recently spoke at Harvard about living successfully with diabetes. In May of 2016, she wrote "Diabetes Tragedy to Triumph" which chronicles the life plan and success over her 40-year journey of living with Type 1 diabetes. Tracy is available for interviews with TV, radio, newspapers, and other media outlets.
To contact Tracy, please visit www.diabetesride.com or contact Tracy directly 817-915-6311.
Watch a recap of the first month of her ride here: https://www.tracyherbert.com/
Source: Tracy Herbert
Share: