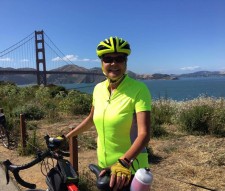 Fort Worth, TX, June 13, 2017 (Newswire.com) - Riding a bike from the Golden Gate Bridge to the Brooklyn Bridge would be difficult for a normal person, but Tracy Herbert is no normal person. Tracy is riding across the United States to raise awareness of the epidemic rise of diabetes.
Tracy took off from the Golden Gate Bridge this morning on her cross-country bicycle ride to bring awareness of the epidemic rise of diabetes. At age 17, Tracy learned how to give herself shots after being diagnosed with Juvenile Diabetes (Type 1). While in the hospital, Tracy was told by all the medical experts she would be dead within 20 years, suffer from horrible complications, and that she would never be able to have children. Tracy has two children, is a grandmother, and has no complications.
Several months after being diagnosed, she made a decision that would drastically change her life. She decided to be better, not bitter, about her diagnosis. With this positive mindset, Tracy set off to the local library and began researching everything she could about diabetes. She decided to make drastic changes and started planning ways to manage this disease. She refused to accept her diagnoses as a death sentence.
Today Tracy is starting her "celebration" of her 40th anniversary of being diagnosed with diabetes by riding her bicycle approximately 3,500 miles. She has observed other major milestones in her life with diabetes by participating in the "Hotter than Hell" 100-mile bike ride and a triathlon, even though she is afraid of water. Tracy's mission is to help people understand that diabetes does not have to rule their life and no matter what health issues someone might be living with, don't give up hope. She is also raising funds to help children with Type 1 diabetes who desperately need the most up-to-date medical technology to save their lives.
Tracy does not take anything for granted. This is why Tracy will be riding her bike to celebrate life and living successfully with Type 1 diabetes. Tracy will be spreading awareness of diabetes to everyone she comes in contact with to help stop this epidemic rise of diabetes in our country.
Tracy Herbert is a bestselling author, has been featured numerous times on TV, and recently spoke at Harvard about living successfully with diabetes. In May of 2016, she wrote a book called "Diabetes Tragedy to Triumph" which chronicles the life plan and success over her 40-year journey of living with Type 1 diabetes. Tracy will be available for interviews with TV, radio, newspapers, and other media outlets. For more information and how to contact Tracy, please visit www.diabetesride.com or contact Tracy directly 817-915-6311.
Contact:
Tracy Herbert 817-915-6311
www.diabetesride.com
Source: Tracy Herbert
Share: