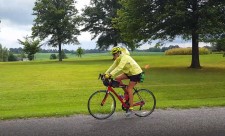 FORT WORTH, Texas, September 5, 2017 (Newswire.com) - Tracy Herbert left the Golden Gate Bridge in San Francisco on June 13 on her 3,500-mile bicycle trek to the Brooklyn Bridge in New York City. She has less than 300 miles left to her destination.
For Tracy, the bicycle ride across America started off as a dream, a way to "celebrate" living 40 years with Type 1 diabetes. Her goal was that this ride would reach a few people but has been overwhelmed by the impact, encouragement, and hope that this ride has given parents, their children, and others who are living with Type 1, Type 2, and Pre-Diabetes across the country.
Tracy's ride is focused on encouraging as many kids as possible and providing them with the hope that having diabetes does not keep you from living a full and healthy life. Tracy tells the kids that she has been meeting, "If this old lady who has had Type 1 diabetes for almost 40 years can ride her bike across the country, what is stopping you from reaching your dreams?!"
She's decided that the end of this ride isn't the end of her journey. After meeting these children and families across the country, she has learned that many children who desperately need the most up-to-date medical technology can't afford it. Parents are finding their health insurance won't cover the needs of their kids or the out-of-pocket cost is too high. Learning those heartbreaking truths, Tracy's next goal will be to set up a foundation and help raise funds for children with Type 1 diabetes.
At age 17, Tracy learned how to give herself shots after being diagnosed with Juvenile Diabetes (Type 1). While in the hospital, Tracy was told by all the medical experts she would die within 20 years, suffer with horrible complications, and she would never be able to have children. Tracy has two children, is a grandmother, and has no complications.
Tracy Herbert is a bestselling author, has been featured numerous times on TV, and recently spoke at Harvard about living successfully with diabetes. In May of 2016, she wrote "Diabetes Tragedy to Triumph" which chronicles the life plan and success over her 40-year journey of living with Type 1 diabetes. Tracy is available for interviews with TV, radio, newspapers, and other media outlets. To contact Tracy, please visit www.diabetesride.com or contact Tracy directly 817-915-6311.
Watch videos from her ride here: https://www.tracyherbert.com.
Tracy Herbert
817-915-6311
www.DiabetesRide.com
September 5, 2017
Source: Tracy Herbert
Share: